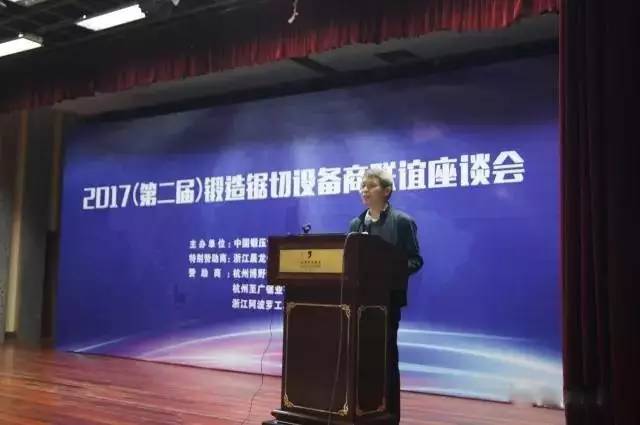 On January 6, 2017, Qi Junhe, Deputy Secretary-General of China Forging Association, delivered an opening speech at the "2017 Forging and Sawing Equipment Suppliers Forum" held at the Xian Holiday Hotel in Jinyun County.
"2017 Forging and Sawing Equipment Suppliers Forum" aims to build a platform for exchanges between companies in the same industry and cooperation between upstream and downstream companies. At the same time, in order to establish healthy competition and coordinated development relations for the majority of enterprises, and to enhance the overall strength and level of national products, the association also held a preparatory meeting for the establishment of the "Forging and Cutting Technology and Equipment Committee" during the period.
Liu Jieyang, candidate for deputy county head of Jinyun County and vice chairman of the Chinese People's Political Consultative Conference, delivered a welcome speech on behalf of the county party committee and county government and introduced: Jinyun has always adhered to the development strategy of "Strong County by Industry" and implemented a series of initiatives such as innovation drive, transformation and upgrading, and precise assistance. The environment for the development of eco-industry has been further optimized, the vitality of development has further burst, and the quality and efficiency of development has been further improved. Among them, the traditional advantageous industries such as band sawing machines and sewing machines have accelerated their development and played an important role in the national market...
On the afternoon of January 6, Qi Junhe, deputy secretary-general of China Forging and Pressing Association, and Chinese forging and sawing industry elites from all walks of life visited Zhejiang weilishi machine Co., Ltd.. During the visit, Mr. Lu Yinan, the chairman of the board, introduced our company's production and management, scientific research innovation and other aspects. Elites from all walks of life in the forging and sawing industry in China visited the company's production workshop and inspected the company's products under research on the spot, and spoke highly of our company's new products and breakthroughs in the sawing field.